Water and Sanitation
Overview
Bergrivier Municipality is situated in the West Coast District of the Western Cape Province. Bergrivier Municipality strives to manage and maintain the community it serves with Water and Sanitation services which complies with the National Water Act, Act 36 of 1998 as well as SANS 241. Currently the municipality is managing five Waste Water Treatment Plants and five Water Treatment Works. Where necessary tanker services are used to collect sewage, it is then disposed at the nearest Waste Water Treatment Works. The management and maintenance of all our Treatment Works is to ensure that our community receives water of high quality which is safe for human consumption.
Function
To provide sufficient and clean water for the users with comply with the SANS 241 for National drinking water standards which we publish monthly on the Bergrivier Website.
To provide a water/sewage management system for all areas in Bergrivier Municipality with laid down Standard Operating procedures
Water and Sanitation also have to comply with the Blue Drop and Green Drop national compliance as per goals set annually by National Department of Water and Sanitation (DWS) for administration, safety, risk analysis, drinking and final effluent
Routine maintenance with available funding (e.g. pipe replacement programs) of the water and sewage infrastructure.
Quick reaction to pipe burst and to repair within five hours
Replacement of water meters which are defective as soon as possible
To ensure the Waste Water Treatment and Water Treatment plants is fully operational and that the standards of operations are as prescribes in the National Water Act, Act 36 of 1998.
Replacing broken pipes, fire hydrants, valves as part of the maintenance programs
Installing new infrastructure as per funding from Provincial Government
KEY PERFOMANCE INDICATORS USED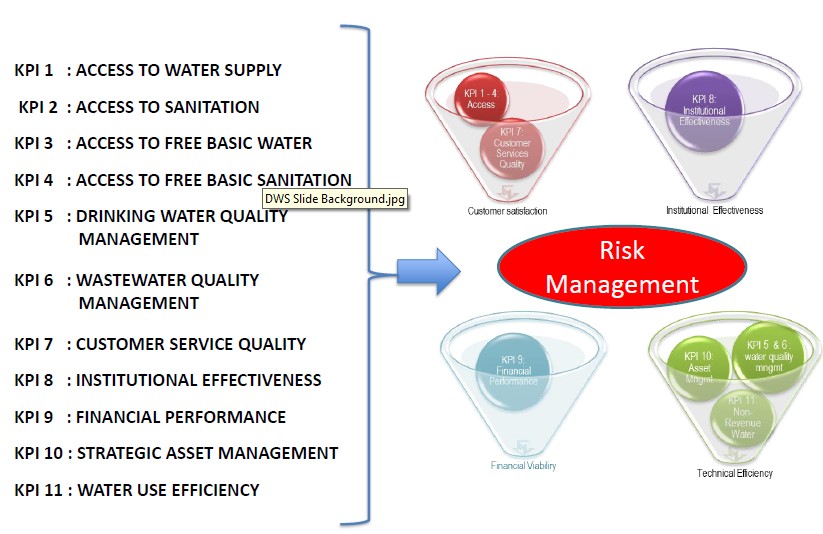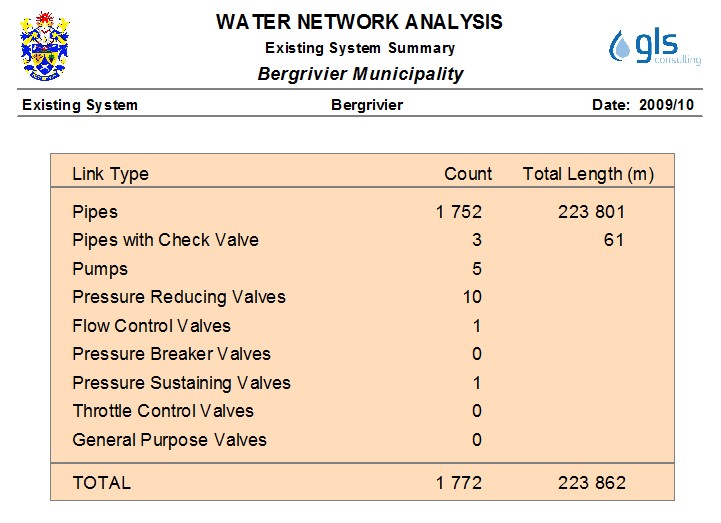 Access to services
The Municipality's key basic service delivery trends are summarized as follows:
WATER
The Municipality is a Water Services Provider in terms of the Water Services Act, Act 108 of 1997 and provides water services to all towns in its area of jurisdiction with the exception of De Hoek, Goedverwacht and Wittewater which are private towns. Water is provided to the latter two at cost on request.
All existing households have access to minimum standards of water and backlogs correlate directly to the need for housing.
All indigent households get their first 6kL of water free.
The Municipality's water is of a good quality as evidenced by the achievement of 2 Blue Drop awards for the Porterville and Velddrif Networks in 2012. In Piketberg we achieved 87.5%, missing the requisite 95% needed to achieve Blue Drop status by only 7.5%.
Bergrivier Municipality is responsible for the distribution and reticulation of water to all its consumers in Piketberg, Redelinghuys, Porterville, Eendekuil, Velddrif and Aurora.

 

 
Water management in Bergrivier
            A few interesting comments regarding water consumption and general hints
< >< >< >< >< >< > 
 
< >
Baths and showers

Taking a bath consumes an enormous amount of water.  Rather use less water or take a brief shower.  Low-flow shower heads, which also save water, are available at certain hardware stores.

< >< >
Water leakages

Leaking taps and toilets that do not shut down, can on the long run place a financial burden on the household. Tap washers should be replaced regularly and toilet and geyser leakages should be repaired immediately.

 

 

Water meters

Residents with access to the readings on their water meters, can monitor daily consumption.  The meter registers in kiloliter (1 000 liter) and water consumption can be monitored accurately by taking readings on a regular basis.

< > 
 

The Municipality provides sanitation services to all towns in its area of jurisdiction with the exception of Goedverwacht, Wittewater and De Hoek which are private towns.
All existing households have access to minimum standards of sanitation and backlogs correlate directly to the need for housing.

All indigent households get free sanitation (except where there are septic tanks).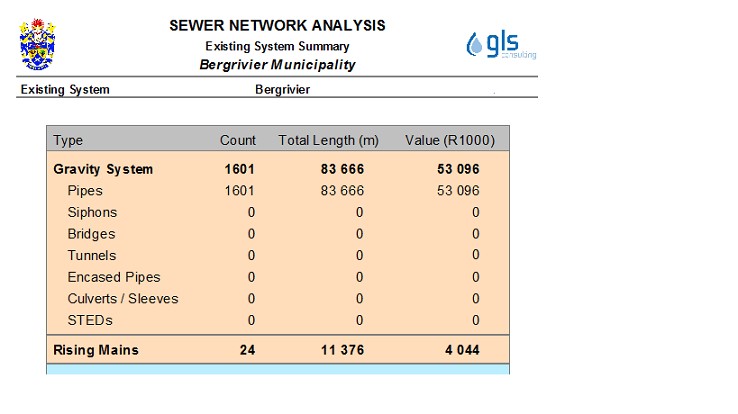 Enquiries
During Office hours
| | | | | | |
| --- | --- | --- | --- | --- | --- |
| Aurora | Eendekuil | Piketberg | Porterville | Redelinghuys | Velddrif |
| 022 952 1720 | 022 942 1780 | 022 913 6000 | 022 931 2100 | 022 962 1605 | 022 783 1112 |
After hours
Porterville
Piketberg
Velddrif
Eendekuil
Redelinghuys
Aurora
083 272 3853
083 272 3850
083 272 4136

083 272 4135

083 272 4137

 

083 272 4130
083 272 4131
Contact us to report any problems, or if you have queries, comments or suggestions with regards to water and sanitation. 
''We at Bergrivier Municipality do not shy away from change.  We are prepared to adapt continuously in order to satisfy the needs of our community.''
Last published 27 March 2017