Roads and Stormwater
Overview
Bergrivier Municipality is responsible for the maintenance and rehabilitation of the Municipal roads and Storm Water within the Bergrivier area.
Function
To provide sufficient storm water and road maintenance and maintain the infrastructure in good operational condition for the users
To provide a storm water management system for all areas in Bergrivier Municipality with laid down Standard Operating procedures
Routine maintenance with available funding (e.g. patching & resurfacing) of the roads and street infrastructure.
Unblocking of storm water drainage system in advance to insure a clean and working storm water system.
Replacement of missing manhole covers as soon as possible
Cleaning of storm water system and culverts monthly
Replacing broken pipes, manhole slabs and covers
Installing new storm water systems as per annual budged

 

 

Pavement Management System

We use a Pave Management System to evaluate the roads classifications as well as the conditions and budget every year accordingly to resurface the roads.  Afterwards we do a visual inspection of all the roads and prioritize the work to be done within the approved annual financial budget.

 

ROADS PAVEMENT MANAGEMENT SYSTEM

As the above insert shows all the roads in total for Bergrivier Municipality. One can see the challenge to manage the roads accordingly within the limited budget.  

 

 

STORMWATER PAVEMANT MANAGEMENT SYSTEM

 

 
As per insert the total storm water system off Bergrivier Municipality.  The Civil Department uses this system to evaluate the need and the crisis area that needs attention.


As seen in above picture typical identifying of "hot spots" for the storm water system. They are dealt with accordantly in preventative actions from the Civil Department.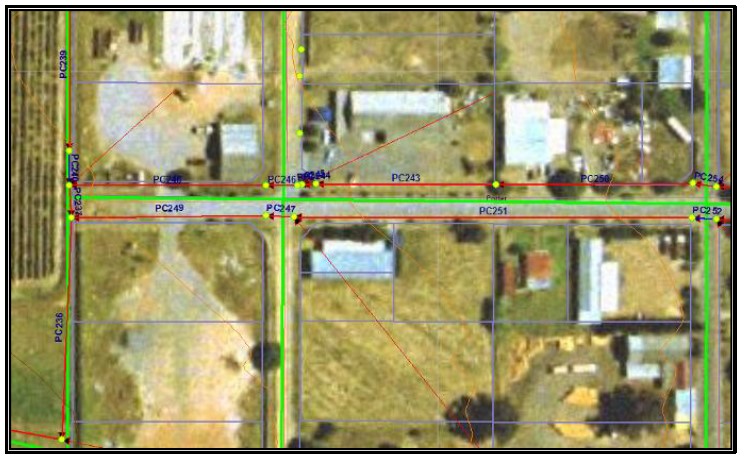 A typical problem shown by the Pavement Management System in the insert for official to dealt with accordantly.
Enquiries
During Office hours
| | | | | | |
| --- | --- | --- | --- | --- | --- |
| Porterville | Piketberg | Velddrif | Eendekuil | Redelinghuys | Aurora |
| 022 931 2100 | 022 913 6000 | 022 783 1112 | 022 931 2100 | 022 913 6000 | 022 783 1112 |
After hours
Porterville
Piketberg
Velddrif
Eendekuil
Redelinghuys
Aurora
083 272 3853
083 272 3850
083 272 4136

083 272 4135

083 272 4137

 

083 272 4130
083 272 4131
Contact us to report any potholes, or if you have queries, comments or suggestions with regards to roads and storm water. 
''We at Bergrivier Municipality do not shy away from change.  We are prepared to adapt continuously in order to satisfy the needs of our community.''
Last published 22 March 2017