Electricity
Overview
Bergrivier Municipality ensures a safe, effective, economical and continued supply of electricity within the Bergrivier area. We manage and maintain electrical infrastructure to ensure that there is minimum interruptions in electricity supply.
Ongoing activities include:
repairs to street lighting,
New household and Business cable connections,
repairs to existing distribution cables on low voltage networks and medium voltage networks,
repairs and maintenance of medium voltage switches, transformers and substations,
repairs and maintenance of low voltage and medium voltage overhead lines,
attending to service and new building applications
attending to customer complaints and queries,
engaging with contractors delivering services to the Municipality
engaging with internal departments to reach municipal goals
engaging with National and Provincial Departments and stakeholders
administering daily departmental activities e.g. personnel, vehicles, reports and meetings
delivering after-hours electrical standby services
Service mandate
Bergrivier Municipality is responsible for the distribution and reticulation of electrical energy purchased from Eskom, to all its consumers in Piketberg, Redelinghuys, Porterville, Eendekuil, Velddrif and Aurora.
Function
Maintenance of electrical assets, infrastructure and equipment
Management of service interruptions and quality of electrical supply
Delivering support to other Municipal Departments internally
Interacting with various role-players and customers on electrical issues within the municipal area
Management and implementation of new electrical infrastructure and installations
Monitoring and management of subsidised housing connected to the public distribution network
Management and recording of electrical losses and enforcement of remedial losses

 

Energy Saving Tips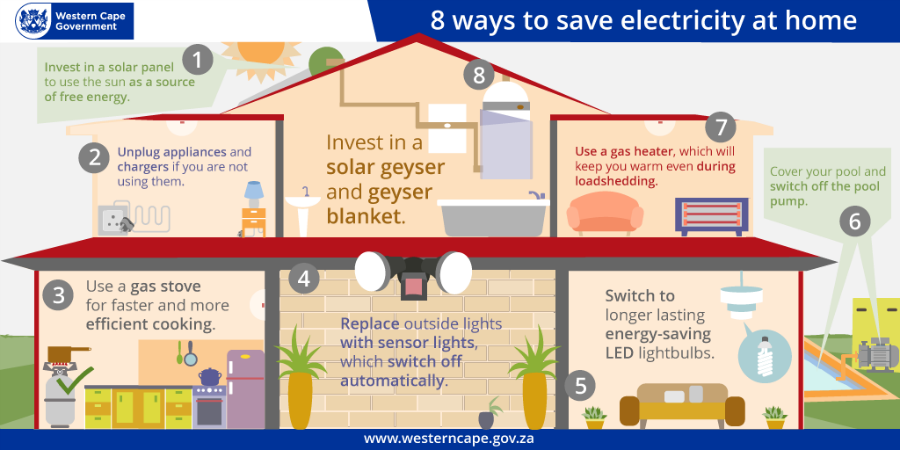 Low-Cost Tips: Investments of less than R1 000 that can save up to 30%
Install an efficient showerhead
Insulate your geyser and the hot water pipes
Change to energy-efficient lighting
Invest-To-Save Tips: Investments that create greater long-term savings of up to 50%
Install a solar water heater
Insulate your home and ceiling
Reduce the temperature of your geyser to around 55 degrees Celsius so that you don't need to add too much cold water when you shower or do the dishes

Remember to keep the lid on the pot when you cook to conserve heat and energy
The size of the pot should match the size of the stove plate; this can save you up to 25% on the electricity you use while cooking.
Close the windows and doors when the heater is on and save money!
Close the door every time you take things out of the fridge and also check that it seals properly.
Try to boil only the water you need instead of boiling a full pot or kettle every time
Insulate your geyser by wrapping newspapers, old blankets or other insulating materials around it and the hot water pipes
Switch off lights, fans, computers and other energy-consuming appliances when you leave the room.  It will save you money
Use the right energy for the right purposes; for example, use heaters for space heating rather than hotplates, and use an electrical kettle for water heating rather than an ordinary pot on the stove.  You will use about 50% less electricity
Electricity is good for electronic devices but gas is more efficient for heating and cooking
Enjoy a comfortable indoor climate both summer and winter by ventilating your room properly on a daily basis.  Remember to switch off your heater, fan or air conditioner while ventilating the room
Reduce your electricity account by skipping the washing machine's pre-wash cycle if your clothes are not particularly dirty.  This will use up to 20% less electricity
Reduce the temperature on the heater from full heat to a comfortable level
Turn off all stand-by modes every time you leave the house and before going to bed
Use energy saving light bulbs.  They last much longer and use less electricity, saving you money in the long run

Check your electricity meter at regular intervals and take a keen interest in your energy consumption level

 

 
 
 
Enquiries

 

During office hours

| | | | | | |
| --- | --- | --- | --- | --- | --- |
| Porterville | Piketberg | Velddrif | Eendekuil | Redelinghuys | Aurora |
| 022 931 2100 | 022 913 6000 | 022 783 1112 | 022 931 2100 | 022 913 6000 | 022 783 1112 |

 

Fault reporting

After hours

| | | | | | |
| --- | --- | --- | --- | --- | --- |
| Porterville | Piketberg | Velddrif | Eendekuil | Redelinghuys | Aurora |
| 083 272 3294 | 083 655 4846 | 083 272 4117 | 083 272 3294 | 083 655 4846 | 083 272 4117 |

 

 

Contact us should u want to report a fault, have queries, compliments, complaints or suggestions.

 

''We at Bergrivier Municipality do not shy away from change.  We are prepared to adapt continuously in order to satisfy the needs of our community.''
Tariffs 
*See under Financial Reports/Annual Budget/Final Budget
Contact us should u want to report a fault, have queries, compliments, complaints or suggestions.
''We at Bergrivier Municipality do not shy away from change.  We are prepared to adapt continuously in order to satisfy the needs of our community.''
Last published 26 February 2018