Waste Management
Overview
Provision of basic services: cleaning, collecting and waste disposal. We aim to enhance the general wellness of the community and environment.
Function
To insure a reliable and sustainable solid waste service to the community at the lowest cost by cleaning, collecting and removal of waste in Towns
To improve recycling so that it becomes second nature to everyone
To render a waste removal service to all in our communities
Doing awareness programs in our community, schools and other organisations to improve recycling
Running of clean sustainable transfers stations as well as drop-offs
Cleaning of sidewalks and culverts
Rendering a service to remove garden refuse and green waste to the old dumpsites
Removing weekly the household refuse as well as recycling bags and green waste bags
Three Bag System
REFUSE RECYCLING PROGRAMME
Residents of Bergrivier Municipal Area will only be provided with two packs of black bags for the financial period 1 July - 30 June annually. (One black bag per week)
This initiative was implemented to motivate you, the public, to be more active in the participation of recycling by using the free of charge transparent refuse bag for recycling purposes and the green bag for garden refuse. The black bags are only to be used for non-recyclables.
Black Bags can be collected from the Municipal Offices (Technical Department) during office hours Monday to Friday.
You must provide your municipal account with the collection of the black bags.
Residents are requested not to place their bags in front of vacant stands or on street corners as the staff will not know who must receive the new bag
1.         GREEN PLASTIC BAG
The green plastic bag may only be used for clean garden refuse and only two (2 ) green bags will be removed weekly.
2.         TRANSPARENT PLASTIC BAG
Only clean recyclable material such as tin, paper, plastic and bottles may be placed in the transparent plastic bag and will be removed on your current refuse collection day.
3.         BLACK PLASTIC BAG
Any other wet refuse that you cannot recycle must be placed in the black plastic bag and will be collected on the same day as the transparent plastic Bag
Removal of garden refuse
In order to maintain a neat and healthy environment, your cooperation is appreciated regarding the removal of garden refuse, according to the following procedure.
You as owner may remove your garden refuse to refuse dumping site

 

Should you however request the municipality to remove the garden refuse, please make the necessary arrangements at your local municipal office during office hours

 

No garden refuse may be placed on sidewalks unless these arrangements have been made. Payment must be made before the garden refuse or building ruble will be removed.

 

You will also have to sign the refuse removal book to acknowledge that the service has been rendered.

 

If not coherent to above you will be fined as per by-law: 18(1)(b)(i), 18(1)(b)(ii), 18(1)(b)(iv)
Recycling Tips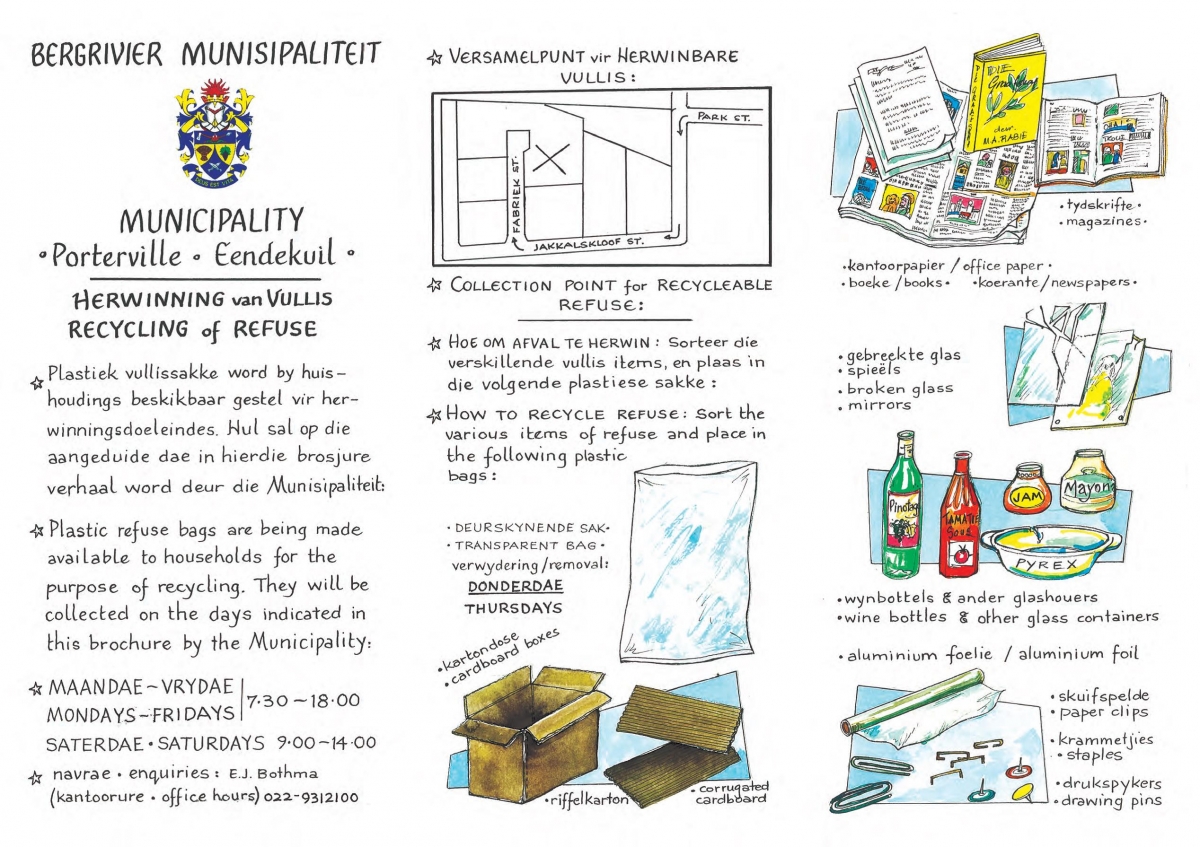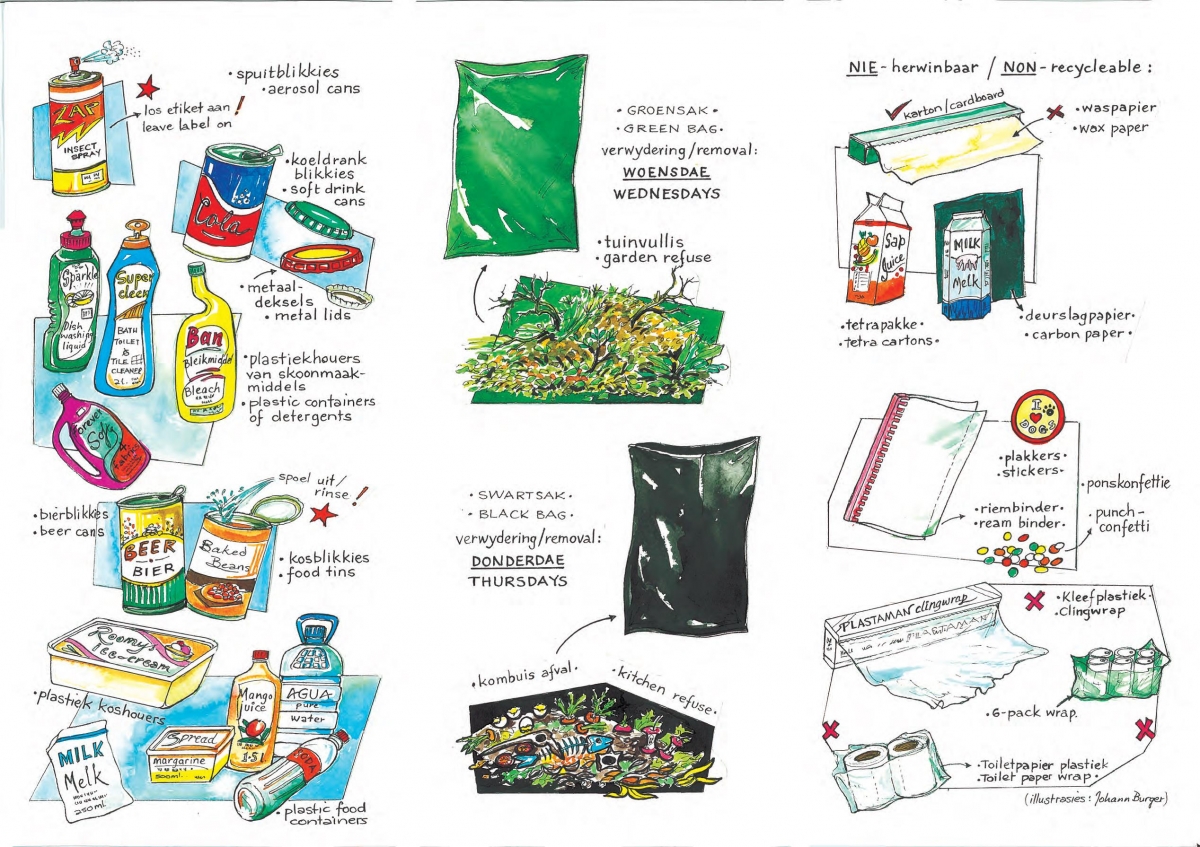 Enquiries
During office hours
| | | | | | |
| --- | --- | --- | --- | --- | --- |
| Porterville | Piketberg | Velddrif | Eendekuil | Redelinghuys | Aurora |
| 022 931 2100 | 022 913 6000 | 022 783 1112 | 022 931 2100 | 022 913 6000 | 022 783 1112 |
After hours
Porterville
Piketberg
Velddrif
Eendekuil
Redelinghuys
Aurora
083 272 3853
083 272 3850
083 272 4136

083 272 4135

083 272 4137

 

083 272 4130
083 272 4131
Contact us to report any problems, or if you have queries, comments or suggestions with regards to waste removal.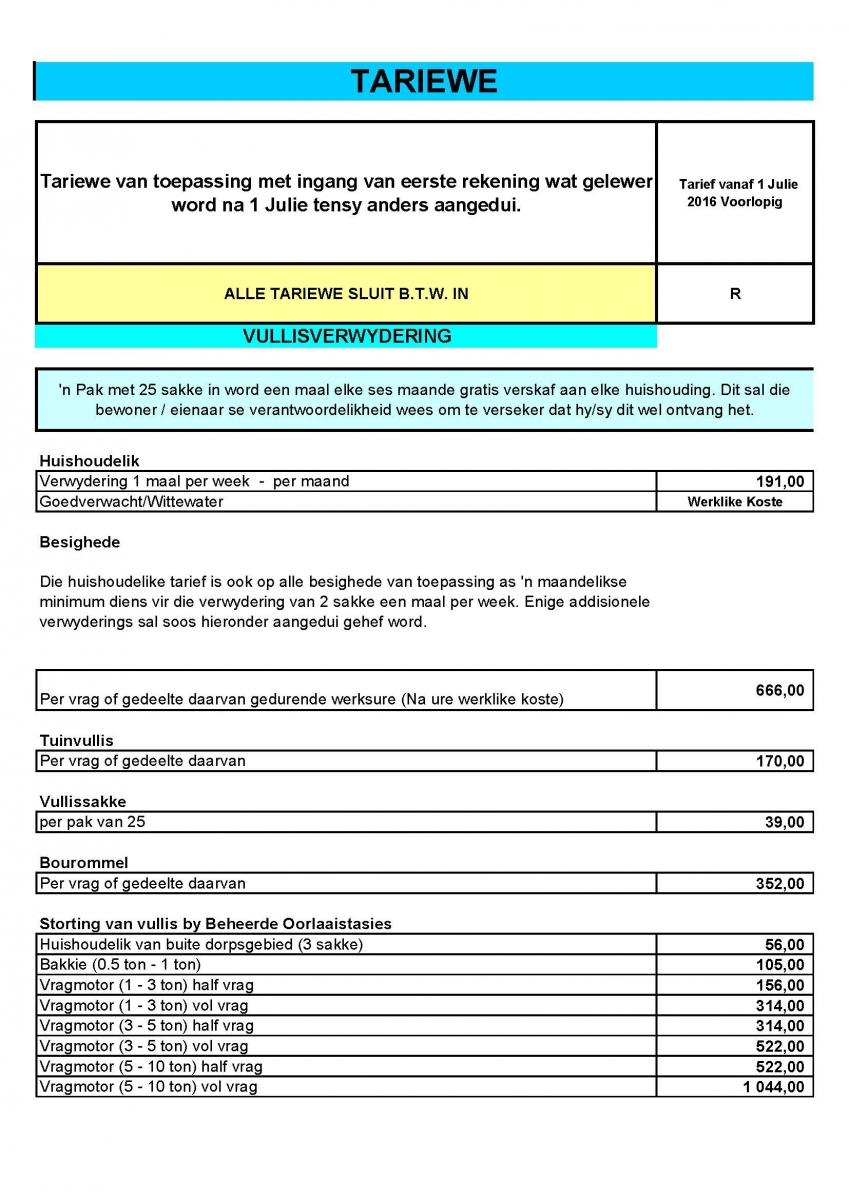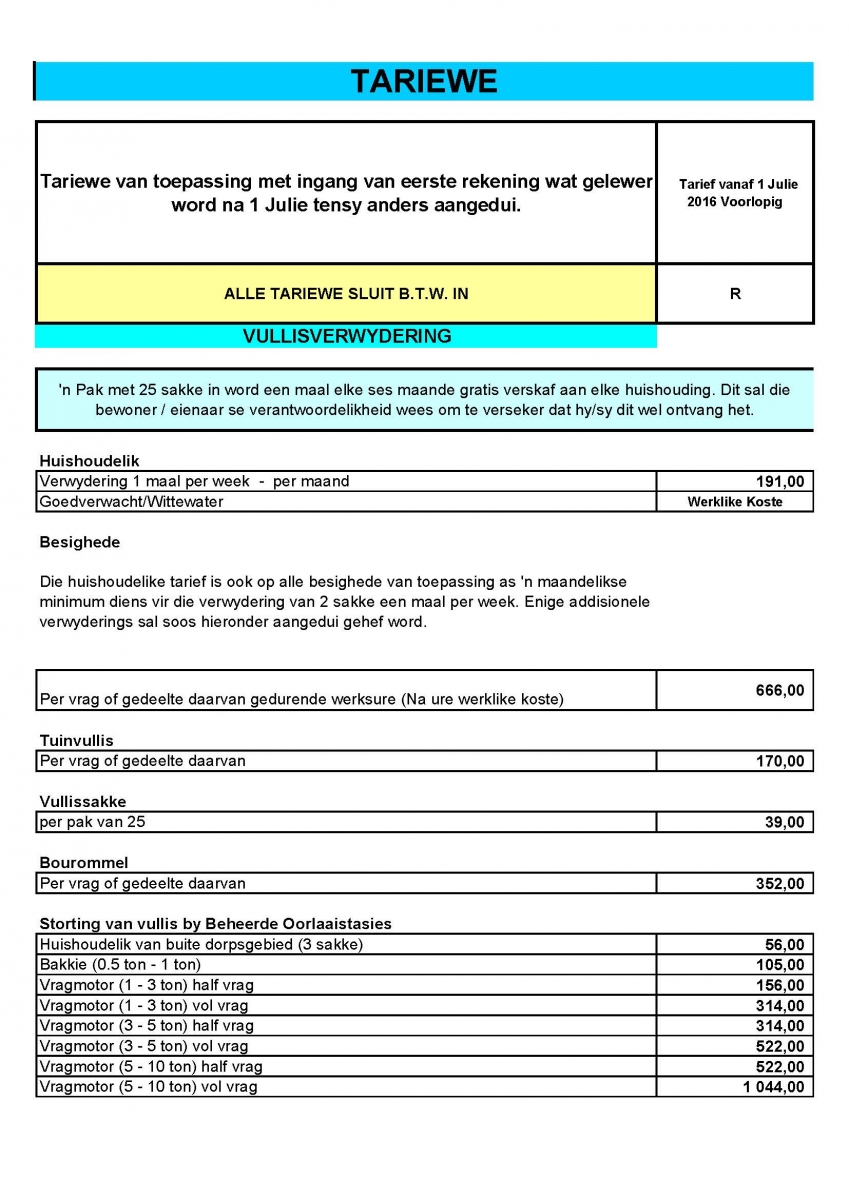 Last published 22 March 2017